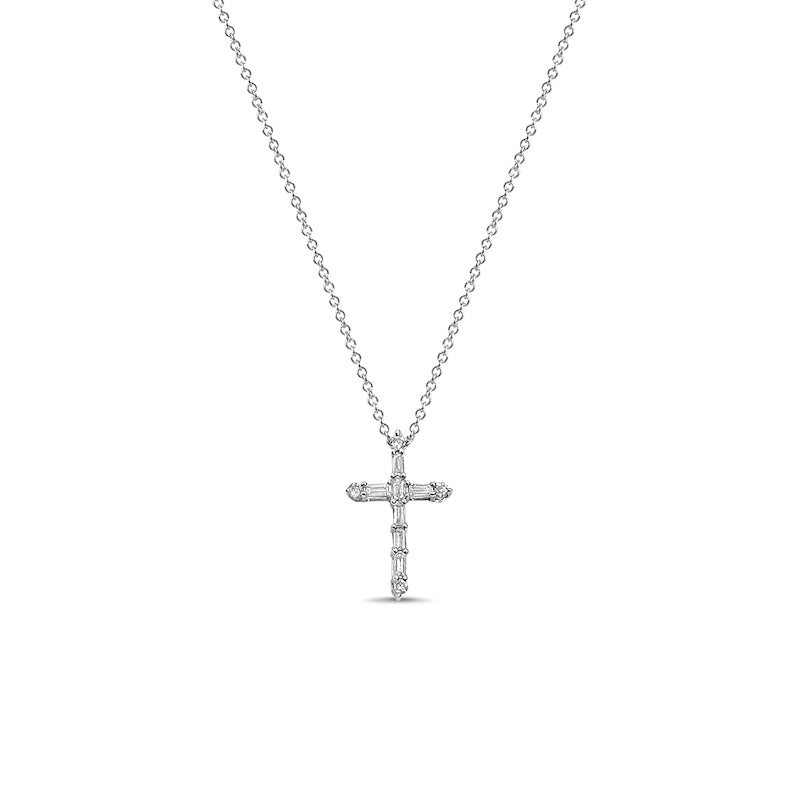 Diamond Cross
---
Unwavering faith will undoubtably help you realize your dreams. This chic and feminine pendant features 0.34 of natural white baguette diamonds, a subtle but sparkly symbol of your inner power and your faith. 
14k white gold and diamond pendent is affixed to a 16" chain. The pendent measures 23.3mm from top to bottom, and 18.6mm across. 
BeGolden is commitment to sustainable and ethical practice, offering quality and consciousness. All of our pieces are made to order, including this style. Please note the production time is 2-4 weeks. We make a $3 contribution to Terrapass to offset the carbon emissions from shipping this item.
20% of net proceeds of items will benefit the We Rise Experience. 
We Rise Experience is a dynamic and empowering business community for Black women in Canada. It provides a platform for connection, collaboration, and growth, with a vision to uplift and support black women entrepreneurs and professionals in their journey towards success. The We Rise Experience was born out of a need for a safe and inclusive space that recognizes and addresses the unique challenges faced by black women in the business world.
A portion of proceeds from this purchase will go to MHFA.
Due to the custom nature of most items on our website, and the time and devotion poured into each garment, please allow a minimum of 10-14 business days for shipping (a minimum of approximately 3 weeks).
As most items are made to order, we do not offer refunds, returns, or cancellations; only exchanges. 
Items may ship separately. Shipping costs include the cost of shipping & handling.